Same Day Crowns
A new smile in just one visit!
There are many reasons our Advanced Dentistry by Design dentists might suggest a dental crown as the solution for your dental needs. You may have simply bitten down too hard on a piece of candy and broken a tooth. You may have a tooth that requires additional support due to extensive decay or damage. Or, it could be that years of clenching your teeth have finally taken their toll. Whatever the reason, you'll be happy to know that at Advanced Dentistry by Design, we are able to design, create and place crowns in a single appointment!
Restore Your Smile Today!
Why should I get a dental crown?
A dental crown performs double-duty, not only restoring your mouth to full function, but also creating an aesthetic replacement for the full tooth that is no longer there, the finishing touch on a root canal procedure or after a dental implant placement. Most crowns will cover your entire remaining tooth structure straight down to the gum line. These tooth-colored restorations can also be used to protect a tooth weakened by decay, or support a tooth that is severely broken, cracked, or requires a large filling.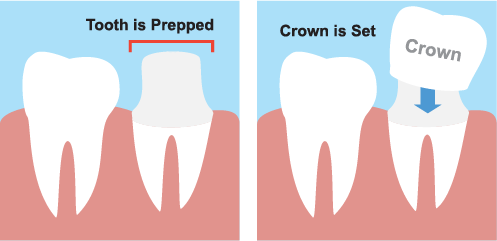 What is a dental crown made of?
The most common materials for dental crowns include porcelain, ceramic, or porcelain-fused-to-metal; other choices include resin or metal alloys (such as gold). Each material has its advantages and disadvantages, and our Advanced Dentistry by Design dental team will consider several factors when determining which to use for you. The decision will depend on:
Where the dental crown will be placed your mouth
Patient habits such as clenching or grinding your teeth
What will look the most natural
Your overall patient needs and history
How will my dentist place the crown?
If you need a crown to hold together a weakened, broken down, or cracked tooth, your dental crown will be placed by our experienced dental team. Most dental restorative methods require more than one visit to the dentist. At Advanced Dentistry by Design, we use CEREC® same day technology — a superior method of creating precisely-designed, color-matched, and highly durable ceramic restorations, all in a single dental appointment! Want to learn more? Check out our CEREC® page!

How long will a dental crown last?
It would be reasonable to expect that a dental crown could last between five and fifteen years. Depending on the environment and forces the crown is exposed to (chewing, biting, accidental trauma, tooth grinding), and how well you keep the tooth to which it is cemented free of dental plaque, a crown can last somewhat indefinitely. This is especially true of a dental crown positioned where its cosmetic appearance is not much of a concern.
Contact Us
If you have any questions about same day crowns, or would like to schedule a consultation with one of our doctors at Advanced Dentistry by Design, contact your Carson City dentists today!