Dentures
Get Your Life Back
Suffering the loss of your natural teeth can be difficult, but our Carson City dentists can provide the solution for you. Whether you have lost all of your teeth, had them removed years ago or are thinking about getting dentures for the first time, Advanced Dentistry by Design can help you figure out which option is right for you.
What are dentures?
Dentures and partials are removable dental prostheses that replace any missing teeth you may have. They are supported by the hard and soft tissues left in your mouth after teeth are removed, including the ridge of bone underneath where your teeth used to be. Advanced Dentistry by Design also has the option of using dental implants to stabilize both dentures and partials, also allowing added strength and comfort.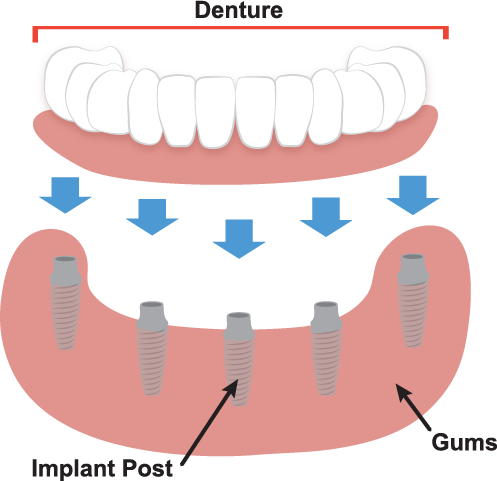 Should I get dentures?
If you are missing a number of teeth due to disease, accidents or extraction, dentures may be an option. For many people, dentures are a last effort to maintain the usability and appearance of their mouth, only turned to when all other treatments have been exhausted. There are a number of affordable options besides dentures that your dentist can discuss with you if you are not already missing all of your teeth.
Are dentures forever?
No, any given set of dentures will not last for your entire life. Because the structure of your mouth changes after you lose teeth and as you age, dentures should be refitted every five years or so. A number of the patients we see are those who have had dentures for years and are looking for a new set, and we are happy to assist them in any way we can.
Dentures: The Next Step
For any potential patient in the Carson City area, we will begin the process with a consultation to determine the best course for you. This meeting will take many factors into account, including your oral health, teeth quantity and quality, medical history and, of course, your own wishes.
Replacing missing teeth is critical to maintain the health of your surrounding teeth, improve chewing and digestion, and restore confidence. Advanced Dentistry by Design will do everything possible to give you the smile you deserve.
Contact Us
If you have any questions about dentures, or would like to schedule a consultation with one of our doctors at Advanced Dentistry by Design, contact your Carson City dentists today!